Goodbye Kiddieland
It was a great weekend, but bittersweet.
On Saturday morning Pat and I picked up my friend Jen and her son to head to Kiddieland. This was Kiddieland's last weekend.
It was great to see Jen and meet her son for the first time. He is a great kid and really seemed to have a blast all EIGHT hours at Kiddieland. He even rode the Little Dipper, their figure eight rollercoaster.
But it was sad. Kiddieland was probably my favorite place to go as a kid. It was about 20 minutes away from my house growing up. Close enough that I could ride my bike there if I was willing to brave suburban traffic on my huffy bike which I did twice. I am not sure if my mom or dad knew I was riding my bike out there, like I said, suburban streets are not meant for kids on bikes.
Before my mom had her stroke when I was eleven, we spent a lot of time at Kiddieland. In fact, I remember having a summer budget. Each week we had $15 dollars to spend, my mom, my sister and I. Kiddieland was $6 for all the ride at that time so we could not go to Kiddieland every week. So to go to Kiddieland we had to borrow from one week. And it was worth it. My sister, Cara, and I would run all over the place. Going on the rollercoaster, the new ride, the Galleon, and my all-time-favorite, the Polyp.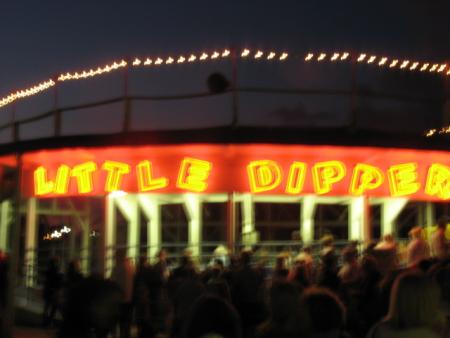 The rollercoaster is a great little wooden rollercoaster and when I was a kid I was confident that with some engineering marvels a loop could be added. Right? Of course it could be added. It goes plenty fast? Well, plenty fast when I was eight. Not so fast as an adult. But still a blast, especially with the bunny hill mid-way through the ride.
When we rode the Little Dipper we all got to go on together which is great for a bigger group since there are only four cars. We were actually waiting at the gate and two little kids cut in front. Hmm... I used my mental brain powers of persuasion on them and said that the back seat was my favorite and I really hoped to get it. In reality, I wanted the front seat. It works, those little red-headed scalawags ran to the back car and I got the front. What a great last ride on the Little Dipper.
But the Polyp... that is my favorite ride. I think it's the best implemtnation of a "spider"/"octopus" ride that I have ever ridden. The individual cars do not spin and it is effectively like a scrambler with hydraulic arms that would lift as the ride spins around... but if you get the right seat you lose your stomach each time the car swings to the outside and the arms reaches its apex and drops back down.
I got that magical car for my last ride.
It was a great day. We got to enjoy the day. But it makes me sad that no one else will get to enjoy it in the future years. It was such a fun place to go growing up and it has been fun to go with new kids and introduce them to it. But that fun is past. I am sure the land will become a useless minimall with yet another home improvement store and a Walgreens. As if the suburbs needs another mall. What we need is a place to go and have fun. To enjoy ourselves and to feel like a kid whether you are six and afraid of the rollercoaster or 35 and ready to ride it one last time.
Sorry, you need to install flash to see this content.